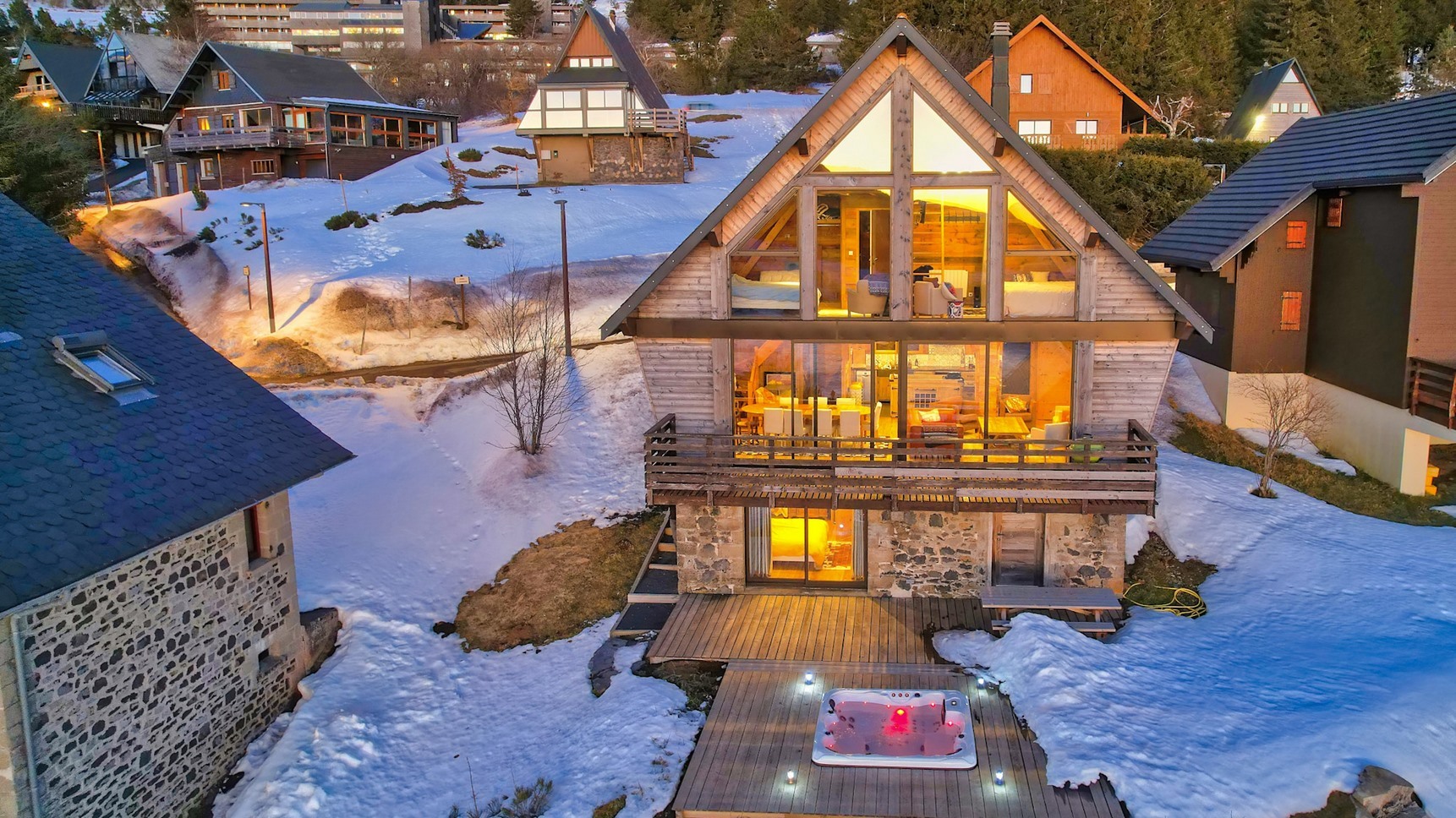 Gîte in Super Besse, Discover the Gîte l'Anorak
Gite rental for 10 people in Super Besse
The Anorak cottage, cottage for 2/10 people in Super Besse, offering a breathtaking view of the Cantal massif and the Monts du Cantal and featuring an outdoor Spa
Gîte with outdoor Spa in Super Besse
The Spa of the Anorak gîte offers a magnificent view of the Massif du Sancy, the Lac des Hermines and Super Besse. With a capacity of 6 people, it offers a space for relaxation and well-being for a superb stay.
Large gite near the city center in Super Besse
On the ground floor, the cottage includes a large entrance with storage, 1 toilet, a large living room with open kitchen, living / dining room, spacious and bright thanks to large windows overlooking the magnificent landscape. Modern kitchen with state of the art appliances.
On the garden level, a large terrace with garden table and a Spa with a magnificent view.
The Cascade Room, master suite with a view of Ermine Lake and the slopes, including a King Size bed, Flat Screen, very high speed internet, Yamaha sound bar and private bathroom. On the 1st floor, 3 bedrooms, 1 bathroom and 1 WC
The Tyrolean Room overlooks the Chambourguet, has a king size bed, flat screen, high-speed Internet and sound bar.
The Bois Joli Room is more particularly intended for children with 4 90x200 beds, high-speed internet, flat screen and sound bar. a play area is also intended for children. It can also be suitable for adults with two King Size beds of 180x200
The first floor also includes the Val d'Enfer bedroom, bedroom with king size bed, flat screen, very high speed internet and sound bar. it offers a very beautiful view of the Lac des Hermines and the Monts du Cantal.

Services at the Anorak gite in Super Besse
The cottage offers a ski room / mountain bike room, a laundry room with washing machine and dryer. all screens are connected to the Internet to access all Netflix and Spotify streaming services. You also have access to an online library of over 500 films. you have dishwashing products, detergents, household products, garbage bags to make your stay as pleasant as possible
Gîte near the city center in Super Besse
Gîte in Super Besse Close to the town center The gite is close to the center of the resort of Super Besse, you can reach the center of the resort and the ski slopes on foot. For the little ones, the shuttle is available 150 meters from the gîte. In the city center, the resort has many shops: Bakery, butcher, mini-market, restaurants, mountain bike rental, ski rental, hiking clothes and ski clothes, souvenir shops.
cottage for rent in Super Besse by the week, weekend, short and medium stay for your holidays in Super Besse
The Anorak cottage is at your disposal for your stay in Super Besse, the cottage can accommodate from 2 to 10/12 people for 1 week rental, a weekend, short and medium stay.
Gîte surroundings in Super Besse
* Lake or body of water within 300 m
* Shuttle stop within 300 m
* Mountain view
* In the mountains
* At 300 m maximum from the slopes
* Ski resort
* Itinerary G.R. less than
Vidéos & Photos - Gîte in Super Besse, Discover the Gîte l'Anorak