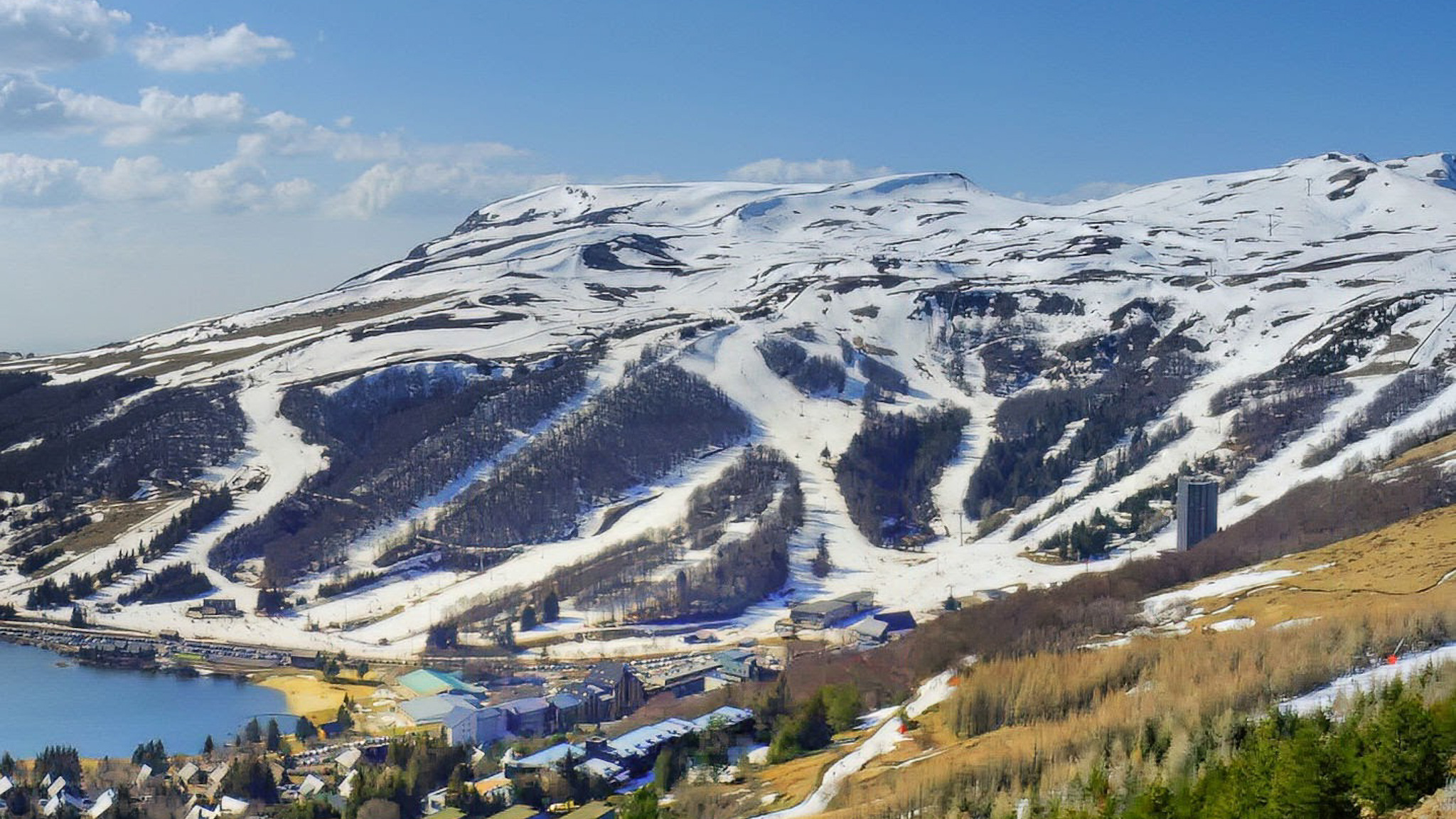 The Puy de Chambourguet in Super Besse
Super Besse is a beautiful ski resort located in the Massif Central region of France. Its privileged location makes it an ideal destination for skiers who want to hit the slopes and enjoy the winter festivities. The resort has a vast ski area with 43 runs and over 25 lifts, and a total ski area of 85 kilometres.
The Puy de Chambourguet under the snow
At the heart of the resort is the Puy de Chambourguet, a majestic mountain peak that dominates Super Besse. The summit is often covered in snow, which adds to the charm and natural beauty of the resort. From the Puy de Chambourguet, you can enjoy a breathtaking view of the Massif du Sancy or the Monts du Cantal and the valleys covered with a thick layer of snow such as the Vallée de Chaudefour.
The Puy de chambourguet offers a 360 degree panorama over Auvergne
To the north, the Chaîne des Puys and the Puy de Dôme
To the north, you can see the chain of Puys, with the erect and majestic Puy de Dôme. The range is coated in white making it a beautiful sight to behold. To the west, the snow-capped Puy de Perdrix, Puy Ferrand and Puy de Paillaret are visible, as well as the Chaudefour valley.
To the east, Lac Pavin and the snow-capped Monts du Forez.
On the east side, the frozen Lac Pavin, together with Lac de Bourdouze and Lac de Montcynere, offer a unique view of the natural beauty of the region. The snow-capped peaks surrounding the lakes add to the tranquility of the surroundings.
South. the Cantal Mountains

Finally, to the south, one can appreciate the magnificent Monts du Cantal, with the Puy Mary and the Plomb du Cantal, also glistening in white. These massive peaks add to the grandeur of the area, and their snow-capped splendor is a delight to behold.
Super Besse is a wonderful winter sports destination for those wishing to enjoy the snow and the natural beauty of the region. With its extensive ski area, excellent amenities and facilities and stunning views of the surrounding mountains and valleys, there is something for everyone. The Puy de Chambourguet at Super Besse inspire awe and admiration, offering an escape from the daily grind of life, allowing visitors to soak up the beauty that nature has to offer.
Vidéos & Photos - The Puy de Chambourguet in Super Besse