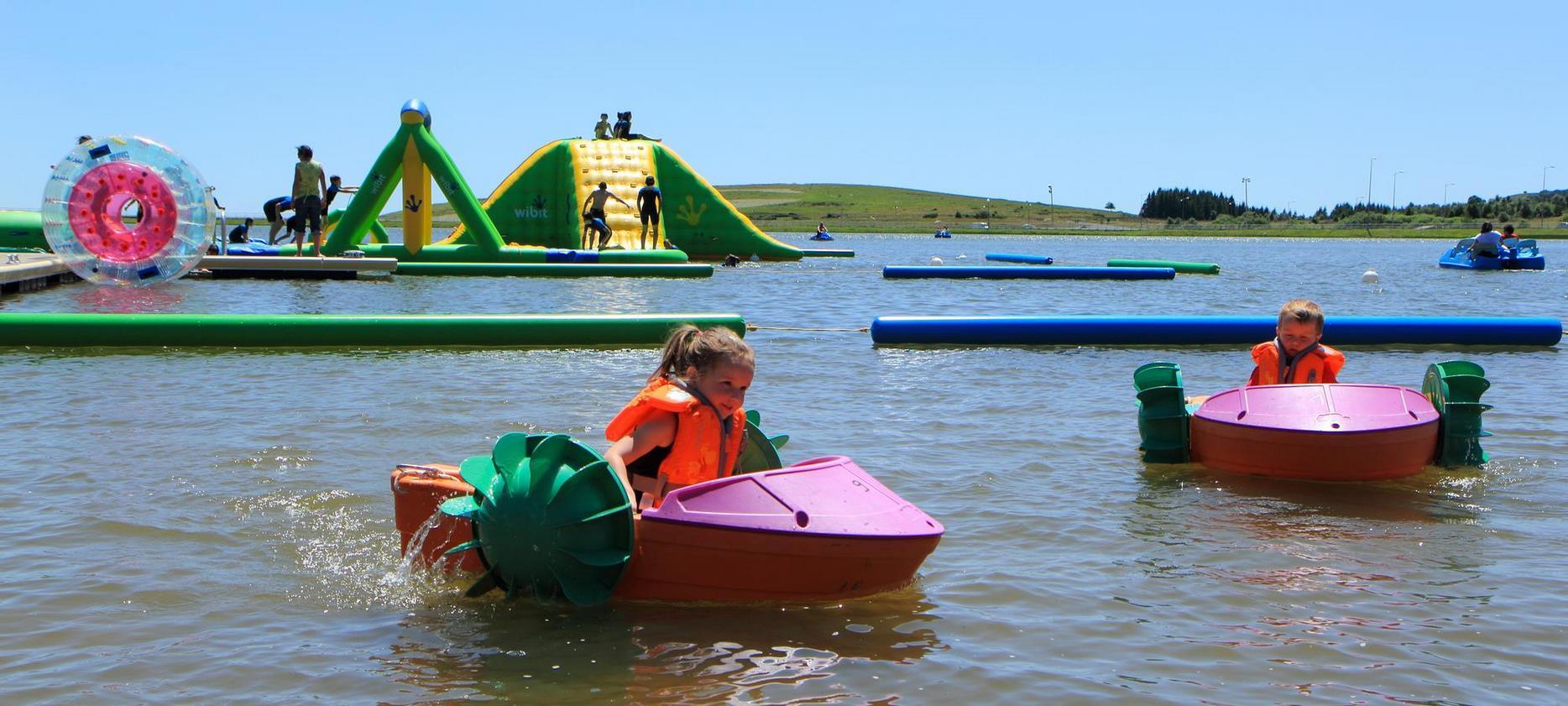 The Hermines lake in Super Besse, beach, water games, pedal boats, paddle, swimming
Lac des Hermines in the heart of Super Besse

Lac des Hermines is a true pearl located in the heart of the Super Besse resort, in the Auvergne-Rhône-Alpes region in France. It is a picturesque lake surrounded by majestic mountains, providing visitors with an incredible natural setting to relax and recharge.
The water sports center of Lac des Hermines

The water sports center at Lac des Hermines is one of the main attractions of Super Besse. It is a paradise for lovers of water sports and aquatic leisure activities. Visitors can enjoy a variety of exciting activities such as canoeing, pedal boating and paddle boarding.
Activities along the Lac des Hermines

In addition to aquatic activities, Lac des Hermines also offers other land activities to entertain visitors. There you can find tennis, beach volleyball and pétanque courts, perfect for spending time with family or friends. There are also play areas for younger children, where they can have fun in complete safety.
Fishing at Lac des Hermines

For fishing enthusiasts, Lac des Hermines is an ideal place to spend a quiet day by the water. The lake is known for its rich population of trout and pike, attracting many anglers each year. It is possible to fish there all year round, but it is important to respect the rules and regulations in force to preserve the ecological balance of the lake.
The beach at Lac des Hermines

On hot summer days, many visitors also enjoy refreshing swimming in the crystal clear waters of Lac des Hermines. The fine sandy beach is perfect for relaxing and soaking up the sun, while the clear water invites for swimming. Safety is a priority, with lifeguards present at all times to ensure the peace of mind of bathers.
Lac des Hermines, a unique place in Super Besse

Lac des Hermines in Super Besse is a magnificent place that offers a multitude of activities for all tastes. Whether relaxing by the water, practicing water sports, fishing or simply enjoying the beautiful surrounding nature, this lake is a true gem to discover for nature lovers and outdoor activity enthusiasts. air.
Vidéos & Photos - The Hermines lake in Super Besse, beach, water games, pedal boats, paddle, swimming