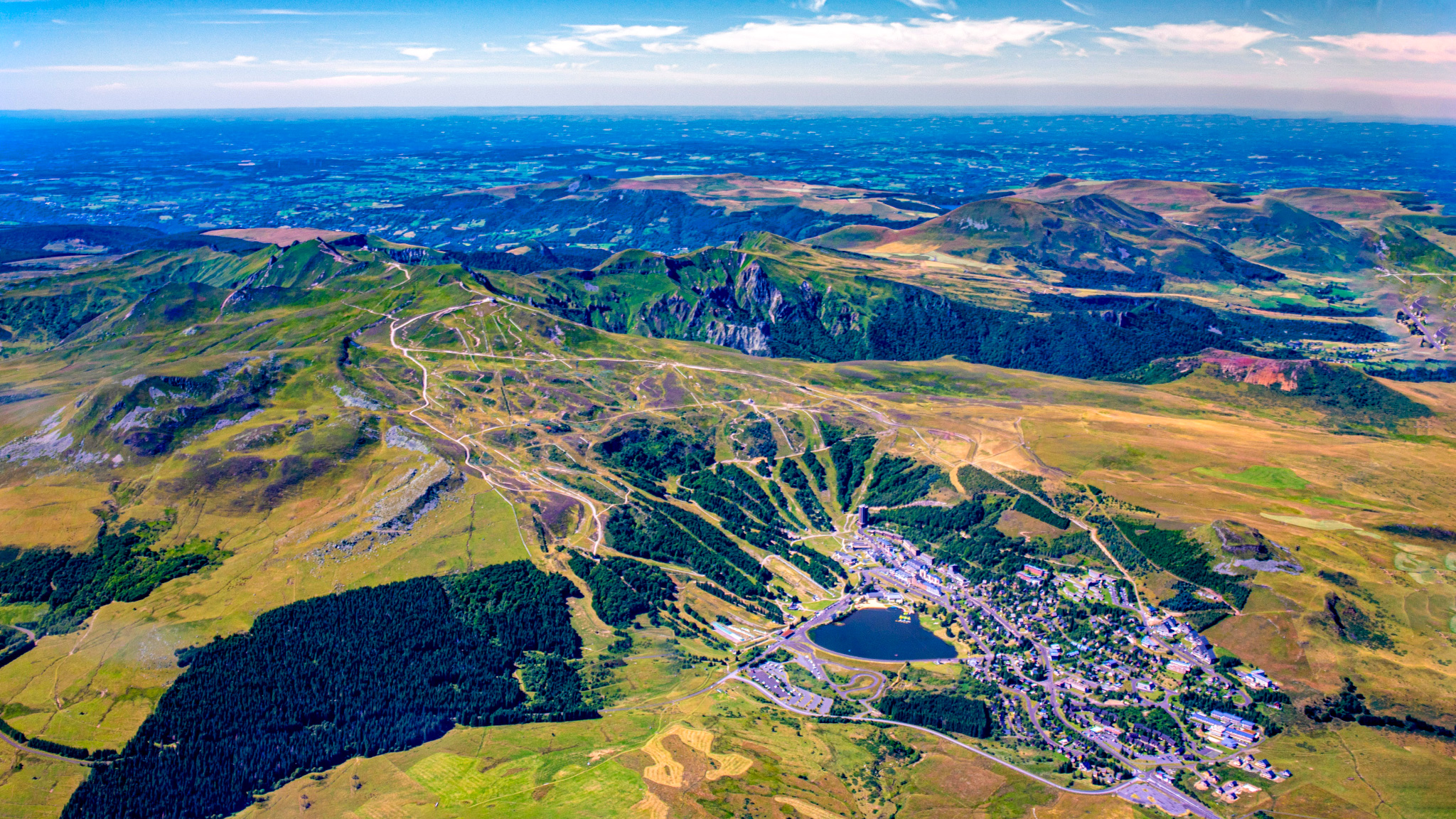 Aerial Photos of the Monts Dore Mountain Range
Aerial photos of the Monts Dores mountain range in the Massif Central
Take a trip to the Massif Central and explore the wonders of the Massif des Monts Dore like never before! Soar through its skies with aerial views, spotting majestic sights such as the Massif du Sancy, the Massif Adventif, the ski resort of Super Besse, Lac Pavin, and even the source of the captivating Dordogne Valley . All topped off with rarely seen photos of these mountains for an unparalleled adventure experience.
Aerial photos of the Massif Du Sancy
Embark on a majestic journey through the breathtaking Sancy massif. Contemplate panoramas with Puy de Sancy, Puy Ferrand, and Rocher du Cuzoau! Immerse yourself in lush valleys like Chaudefour or Val de Courre - then discover vibrant towns like Super Besse or Mont Dore. Finish your experience by soaking up the sunsets from breathtaking peaks, while traversing incredible hiking trails.
The Massif Adventif seen from the Sky
Above the Monts Dore Massif, you will have a majestic and spectacular view of 4 volcanoes known as the Massif Adventf: Puy de la Tache, Puy du Barbier, Puy de Monne and Puy de l'angle. From there, you will have magnificent panoramas over the Lac de Guery, you will see the Massif de l'Aiguiller, the Massif du Sancy and the Banne d'Ordanche, all with the Chaîne des Puys in the background, so close! The hike from Lac Guery to the Croix du Col Saint Robert is simply legendary - it's no wonder this area has bewitched visitors for centuries!
The Massif de la Banne d'Ordanche in aerial view
Admire the magnificent view from the heights! Feast your eyes on breathtaking views of valleys, rivers and mountains. Fly over the Banne d'Ordanche and the Puy Gros to contemplate the majestic Dordogne river below before admiring the spa town of La Bourboule as well as the Monts du Cantal and the Puy de la Tache - so many spectacular views underlined by the breathtaking chain of the Massif du Sancy.
The Dordogne Valley seen from the sky
From its beginning in the foothills of the Puy de Sancy, to its peak at La Bourboule on the slopes of the Massif des Monts Dore, take an aerial tour through one of the most beautiful regions of France: The alluring and picturesque valley of the Dordogne. Fly over the waterfalls that dot the rolling countryside as you make your way to this stunning destination!
The Monts Dores, breathtaking aerial views
From the marvelous Monts Dores to the majestic Massif de Sancy, explore a stretch of unparalleled beauty in the lush Dordogne Valley. Nestled between two towering mountain ranges - the formidable Massif Adventif and Banne d'Ordanche - expect breathtaking aerial views in the Massif Central.