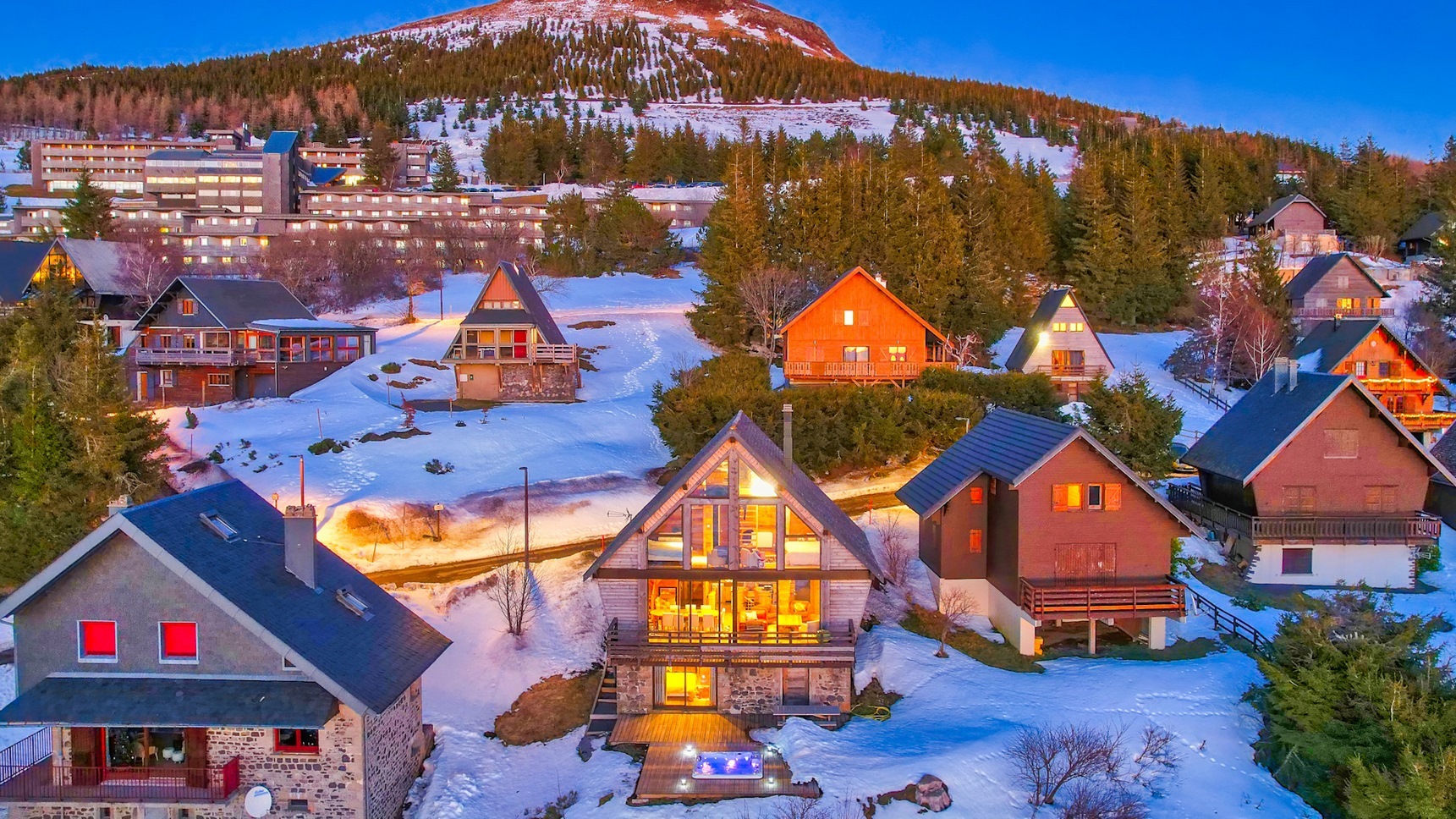 Chalet in the Sancy
Chalet rental in Sancy for 2 to 12 people

Located in Sancy at an altitude of 1350 m, the Anoral chalet has 4 bedrooms for a total capacity of 10/12 people.
We welcome families of 2 to 12 people for weekly stays and depending on availability, the chalet can be booked for weekends of at least 2 nights and short stays during the week.
The Chalet is open all year
The Chalet has benefited from a total renovation with a neat decoration and a magnificent view of the Sancy
Chalet Spa in Sancy
For your stay in Sancy, the chalet has an outdoor spa with a capacity of 6 people including 5 seats and lying down. the water temperature is maintained at 38°.
Pretty moments of relaxation to be expected after a day of skiing or a hike in the Sancy. You will appreciate the magnificent view of the Sancy, the Lac des Hermines de Super Besse and the Monts du Cantal.
Chalet with a magnificent view of the Sancy.
Ideally located, the chalet l'Anorak offers you an exceptional view of the Massif du Sancy. you also benefit from a beautiful view of the Cantal mountains dominated by the Puy Mary and the Plomb du Cantal. Also a nice panoramic view of the Super Besse ski resort.
Ideal chalet for a ski holiday in Sancy
Close to the slopes to discover Sancy, the Anorak chalet is close to the slopes of Super Besse, close to the town center for access to shops and restaurants. a unique place for family skiing on the slopes of Sancy. you practice alpine skiing or cross-country skiing, you benefit from quick access to the alpine ski slopes as well as to the cross-country ski area.
Chalet close to hiking spots in the Sancy.
Its unique location allows easy access to the Sancy hiking trail. the Puy de Sancy is a 2 hour walk from the Chalet. many circuits allow you to explore the Massif du Sancy such as the ridge path or discover the volcanic lakes around the chalet such as Lac Pavin, Lac Chauvert or Lac de Bourdouze.
If you have a vacation plan in the Sancy, do not hesitate to contact us.
Vidéos & Photos - Chalet in the Sancy