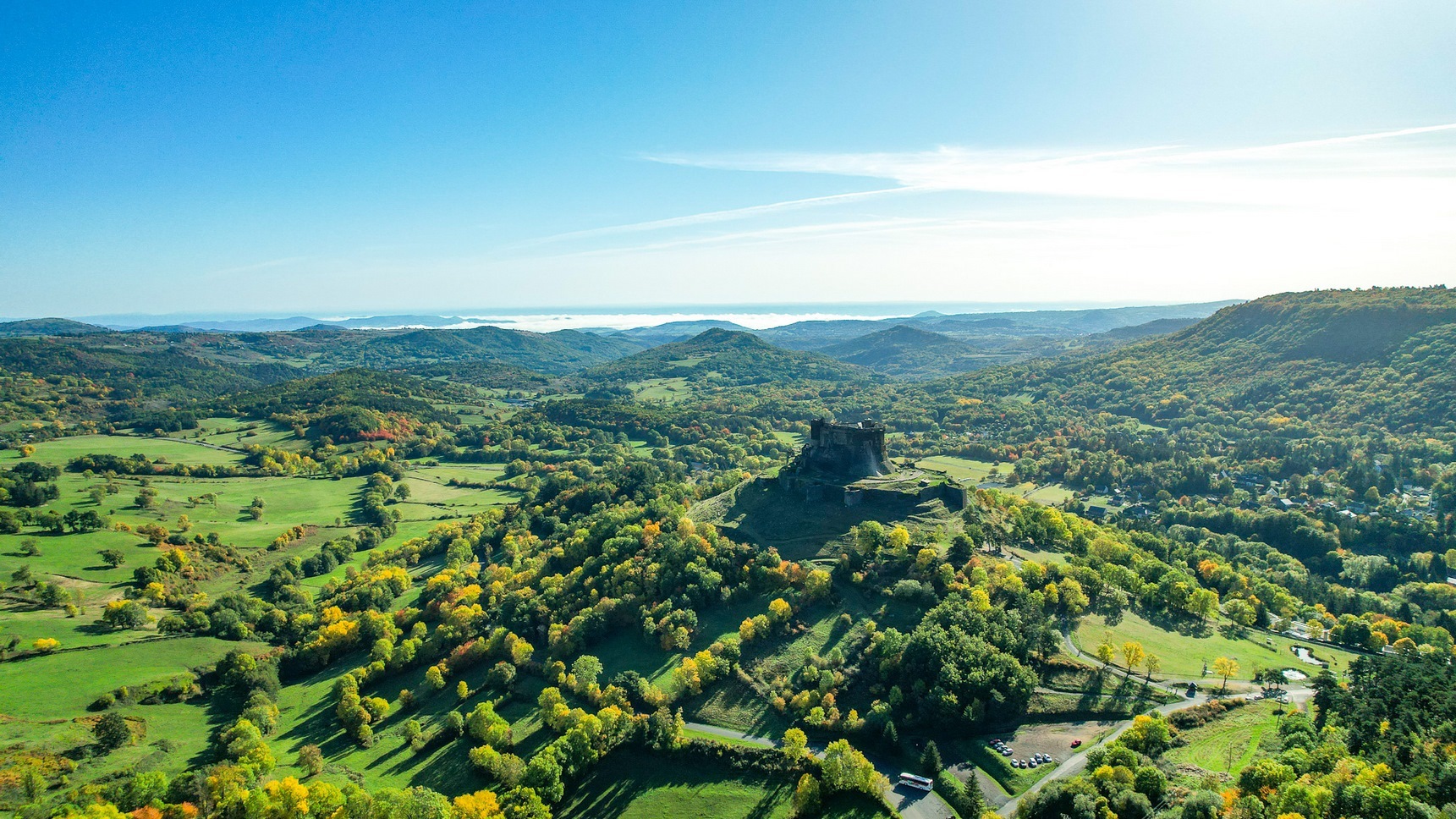 The castle of Murol, fortified castle in Auvergne - breathtaking view of Lake Chambon
The Château de Murol, a fortified castle in the Massif du Sancy

Murol Castle is an iconic medieval castle located in the Massif du Sancy, in Auvergne. Perched on a hill, it overlooks the village of Murol, which was a source of inspiration for many artists from the Murol school of painters. This castle is an important historical witness to the region.
The Château de Murol, a place of history in the Massif du Sancy

Built in the 12th century, Murol Castle has been the scene of numerous events over the centuries. He witnessed the battles and power struggles that marked the history of the Massif du Sancy and the surrounding region. During the Hundred Years' War, it was the site of numerous clashes between French and English forces. Its strategic position makes it a true symbol of resistance.

The Château de Murol, witness to medieval life in the Massif du Sancy

In addition to its military role, Murol Castle was also an important place of life. It served as a residence for many lords and nobles throughout its history. The various owners have made modifications and improvements over the centuries, adding architectural and decorative elements that reflect their era. Today, visitors can admire the towers, impressive walls and restored interiors that provide a glimpse of medieval life.
Murol Castle and Lake Chambon

In addition to its historical importance, Murol Castle is also famous for its proximity to Lake Chambon, formerly called Lake Murol. The lake offers a beautiful and picturesque landscape, surrounded by mountains and lush green forests. Visitors can enjoy different water activities, such as swimming, sailing and kayaking, while admiring the natural beauty of the area.
The Village of Murol

The village of Murol itself is also a lovely place to visit. With its traditional stone houses and cobbled streets, it has an authentic medieval atmosphere. Additionally, the village regularly hosts cultural and artistic events, testifying to its heritage as a source of inspiration for many artists.
The Château de Murol, an unmissable destination in the Massif du Sancy

The Château de Murol is an emblematic symbol of Auvergne and a fascinating witness to the history of the Massif du Sancy. Its dominant position, its impressive architecture and its close links with the village of Murol and Lake Chambon make it an essential destination for lovers of history, nature and culture. A visit to Murol Castle allows visitors to plunge into the heart of the Middle Ages and discover the Sancy Massif.
Vidéos & Photos - The castle of Murol, fortified castle in Auvergne - breathtaking view of Lake Chambon