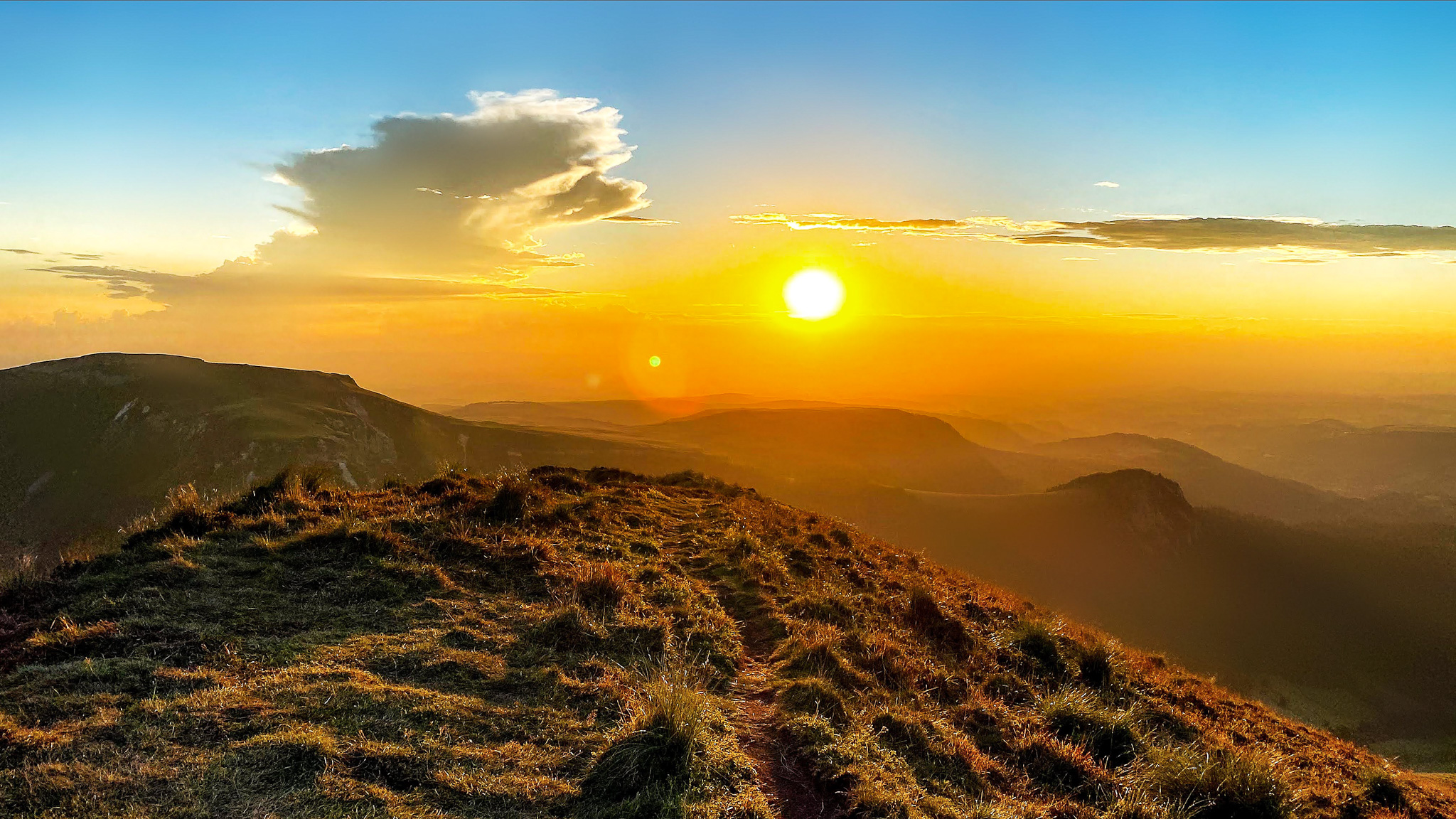 Sunset at the top of the Roc de Cuzeau
From the Col de la Croix Saint Robert to the summit of the Roc de Cuzeau

If you are looking for a truly breathtaking experience while hiking in the Massif du Sancy in the Monts Dore, then the Col de la Croix Saint Robert Hike Departure is a must-do activity. This hike takes you on an unforgettable journey along the Sancy crest path.
Magnificent views of Lac Chambon, the Massif Adventif, the Banne d'Ordanche, the Dordogne Valley and Mont Dore

Culminating with a magnificent sunset from the summit of Roc de Cuzeau. Throughout the hike, you'll be treated to some of the most awe-inspiring views of the landscape, including the beautiful Lac Chambon, the historic Chateau de Murol, and the imposing Puy de l'Angle.
Sunset over Puy de Sancy, Puy de Cliergue, Capucin and Plateau de Charlanne

By taking the rugged and winding path that winds towards the top of the Roc de Cuzeau, you will be treated to a panoramic view of the surrounding countryside. The Massif du Sancy rises in the distance, with its steep peaks and steep valleys creating a spectacular backdrop on which you can enjoy the superb colors of the sunset. As the sun begins to dip below the horizon, you'll witness an explosion of color and light, the sky seeming on fire as oranges, pinks and purples blend together in a stunning display of natural beauty.
From the Roc de Cuzeau summit, discover the sheep in the mountain pastures and beautiful views of the Massif du Sancy

Contemplating the landscape from the top of the Roc de Cuzeau, you will find yourself lost in the magnificence of the moment. From here you can see as far as Le Capucin and the Plateau de Charlanne, with the mountains and valleys stretching out in a seemingly endless expanse before you. Whether you're an experienced hiker or just looking for a leisurely excursion, this gorgeous hike is something that's sure to be with you for a lifetime. So pack your bags, put on your hiking boots and get ready for an adventure you'll never forget!
Vidéos & Photos - Sunset at the top of the Roc de Cuzeau