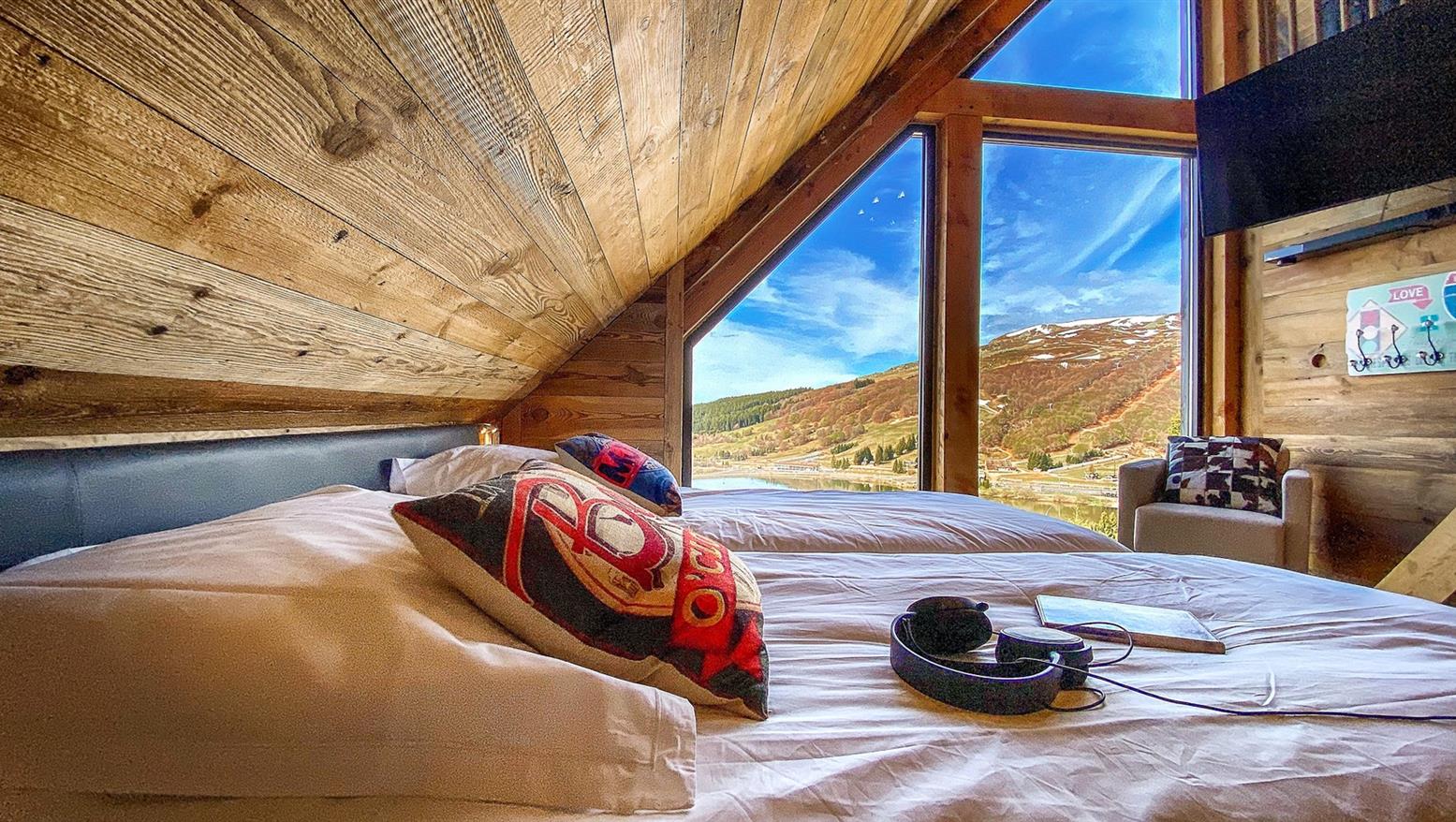 Room
La Bois Joli - comfort room for 1 to 4 people with a view of the Monts du Cantal and the Lac des Hermines
The Bois Joli Room, a family room

The Chalet l'anorak in Super Besse offers an enchanting experience with its Bois Joli room, a quadruple room offering a breathtaking view of Super Besse and the Lac des Hermines in the foreground, with the majestic Cantal mountains and the peaceful Auvergne countryside.
The Bois Joli Room, a breathtaking view of the Cantal mountains

Upon entering the bedroom, you will be immediately struck by the natural beauty that unfolds before your eyes. The large panoramic windows let in natural light, flooding the room and creating a warm and welcoming atmosphere. The view of the lake and the mountains is breathtaking, providing a true outdoor getaway.
the layout of the Bois Joli room

The layout of the room is carefully designed to maximize your comfort and enjoyment. The beds are arranged on two levels, with the mezzanine housing two single beds. This creates a playful space for young children or teenagers, where they can relax and have fun. The mezzanine games area is ideal for entertaining after a day of outdoor adventures.
Decoration and relaxing atmosphere

The decor of the Bois Joli room is both elegant and rustic, with touches of wood and natural materials that recall the atmosphere of the surrounding nature. Furnishings are comfortable and well-maintained, ensuring a relaxing atmosphere where you can recharge after a busy day on the ski slopes or hiking trails.
Take advantage of the outdoor Spa to relax

In addition to the room itself, Chalet l'anorak also offers many other amenities that will make your stay even more enjoyable. You can enjoy the relaxation area with jacuzzi, ideal for relaxing the muscles after a day of sport.
The Bois Joli room at Chalet l'anorak in Super Besse is the ideal place to recharge your batteries and enjoy the natural beauty of the region. The breathtaking view of Super Besse and the Lac des Hermines, as well as the Cantal mountains and the Auvergne countryside, is truly spectacular. The split-level beds and play area on the mezzanine provide a unique and fun experience for families. Do not miss this opportunity to experience an unforgettable holiday in this enchanting setting.
Vidéos - La Bois Joli - comfort room for 1 to 4 people with a view of the Monts du Cantal and the Lac des Hermines