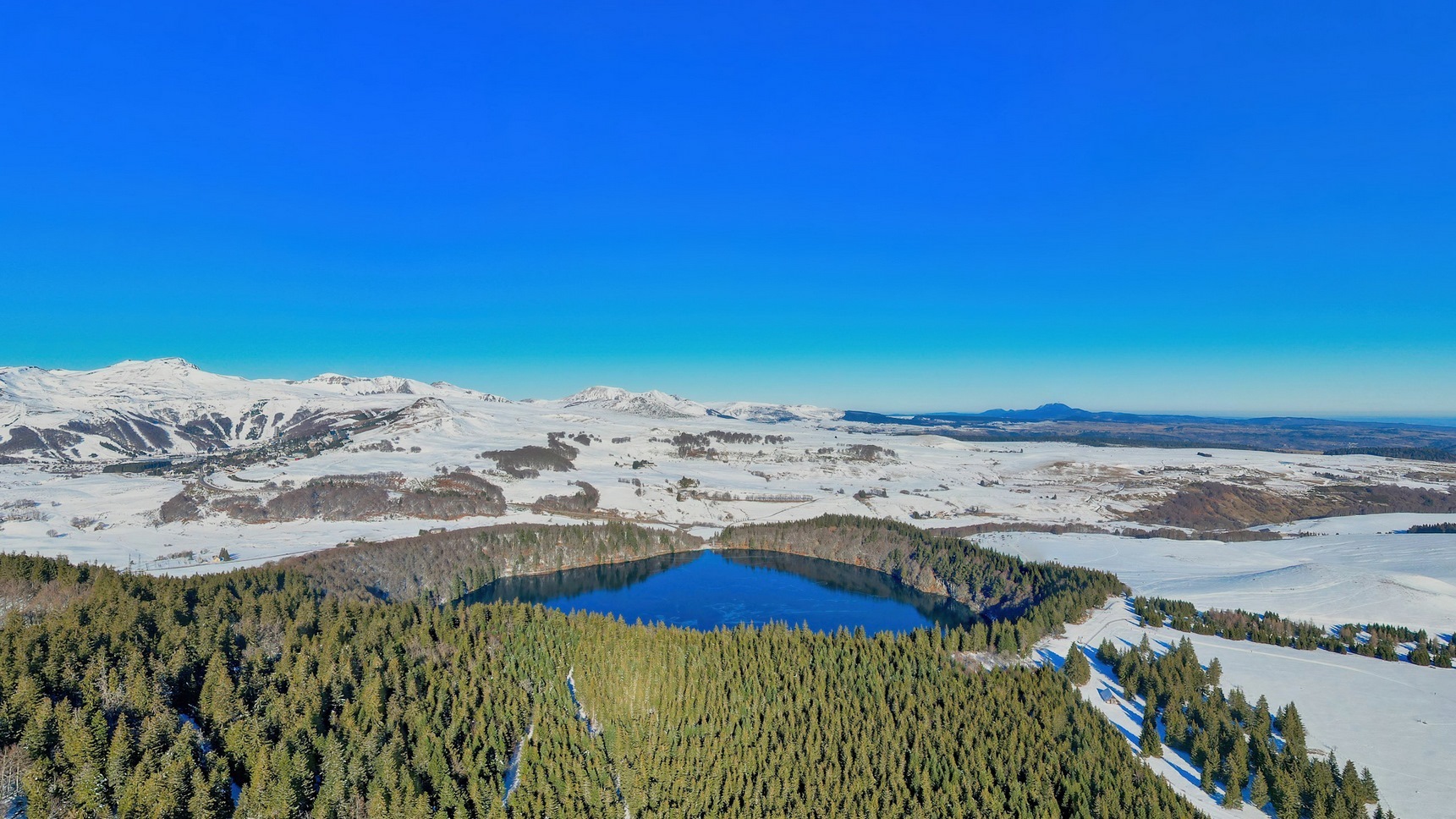 Photos - Lac Pavin
Lac Pavin, an emblematic volcano of the Massif du Sancy
Lac Pavin is one of the natural jewels of the Auvergne-Rhône-Alpes region. Located in the Massif du Sancy, this extinct volcano is considered one of the most emblematic lakes in the region. With its deep blue waters and surrounded by picturesque landscapes, Lac Pavin is a true paradise for nature lovers and hiking enthusiasts.
Walk around Lac Pavin to recharge your batteries

One of the best ways to fully enjoy the beauty of Lac Pavin is to take a walk around its shores. The trails around it offer spectacular views and allow visitors to admire the tranquil waters of the lake up close. Whether you're a seasoned hiker or just looking for a leisurely ride, there's something for every level of difficulty.
Lac Pavin: Local Fauna and Flora

The walk around the lake also offers the opportunity to discover the local fauna and flora. The dense forests that line the banks are home to a wide variety of species, ranging from birds to mammals. Herons, wild ducks and even deer can often be seen wandering around. Botanical enthusiasts will also be delighted by the different species of plants that grow on the banks of the lake.
Lac Pavin: archaeological remains of the occupation of the site

In addition to natural beauty, Lac Pavin is also strongly linked to local history. Archaeological excavations have revealed remains dating from Roman times, testifying to the human presence for centuries. Visitors can learn more about the history of the lake and the region by visiting the Musée du Lac Pavin, which offers interesting exhibits on the surrounding geology, fauna and flora.
Activities around Lac Pavin

In addition to the walk around the lake, Lac Pavin is also a popular place for practicing various water activities. Anglers can cast their lines in the clear waters in search of fish such as trout or pike. Water sports enthusiasts, meanwhile, can take advantage of pedalo or canoe rentals for a more active experience on the lake.
Picnic areas set up around the lake

A visit to Lac Pavin would not be complete without a break to rest and enjoy the view. Several picnic areas are scattered along the shores, giving visitors the perfect opportunity to enjoy a delicious meal while admiring the splendor of the landscape around them.
Lac Pavin is a spectacular destination for anyone who loves nature and outdoor activities. Whether you are an avid hiker, a photography enthusiast or simply looking for a peaceful getaway, Lac Pavin will charm you with its beauty and unspoiled natural setting.