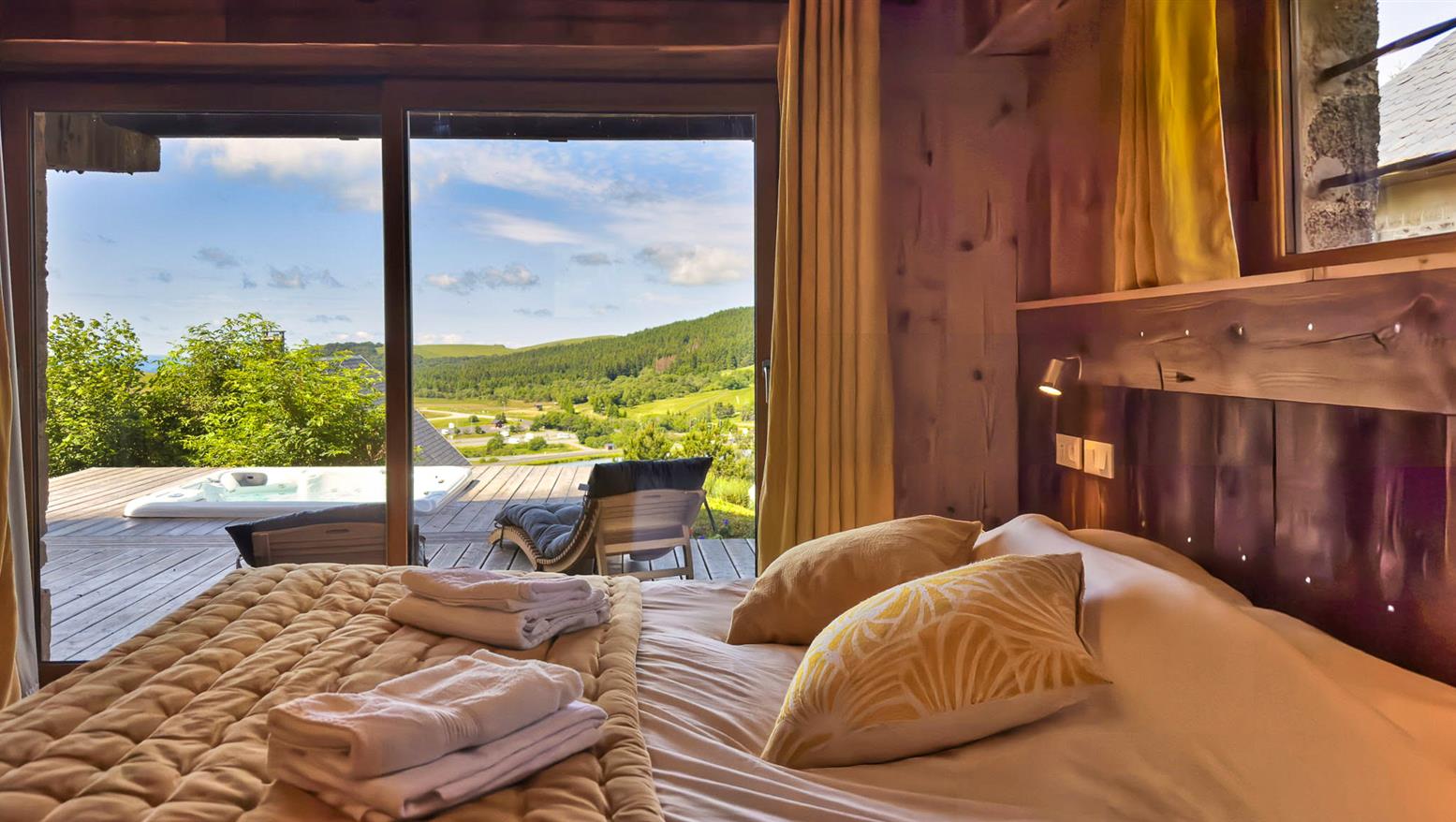 Room
La Cascade - comfort room for 1 to 2 people on the ground floor with a view of the Monts du Cantal
La Chambre la Cascade: a haven of peace

The Chalet l'anorak in Super Besse is a real pearl hidden in the heart of the Massif du Sancy. One of the rooms in this chalet, the Cascade room, is a true haven of peace offering a unique experience. This double room takes its name from the magnificent view it offers over Super Besse and Lac des Hermines.
An atmosphere of relaxation and tranquility

Upon entering this room, visitors are immediately seduced by the neat and tasteful decoration. The calming neutral tones that adorn the space create an atmosphere of relaxation and tranquility. Natural wood furniture and luxurious textiles add a touch of comfort and elegance.
Direct access to the Chalet Terrace

The Cascade room is equipped with all the necessary amenities for a pleasant and relaxing stay. Visitors have direct access to the terrace from their room, where they can enjoy the beautiful surrounding landscape. The sunrises and sunsets over the mountains are breathtaking and offer an unforgettable spectacle.
Direct access to the Chalet's outdoor Spa

In addition to this, guests of the Cascade room also have access to the Chalet's outdoor spa. Whether it is to relax after a day of skiing or simply to rejuvenate, the spa facilities offer an incomparable wellness experience. Plunging into the warm waters while taking in the panoramic mountain views is both an invigorating and soothing experience.
Private bathroom

The private bathroom of the Cascade room is another element that adds to the comfort and convenience of visitors. Equipped with a spacious and modern shower, a designer sink and other quality fittings, this bathroom offers an intimate and functional space to get ready in the morning or relax after a busy day.
The Cascade Room: an Oasis of Calm

In short, the Cascade room at the chalet l'anorak in Super Besse is an oasis of calm and beauty. Its elegant decoration, its direct access to the terrace and the outdoor spa, as well as its private bathroom, make it an unforgettable stay experience. Whether for a romantic weekend or a mountain getaway, this room is an ideal choice for lovers of tranquility and comfort.
Booking at the Anorak chalet means treating yourself to a well-deserved break in an enchanting setting, where nature and comfort coexist harmoniously.
Vidéos - La Cascade - comfort room for 1 to 2 people on the ground floor with a view of the Monts du Cantal